Plastic Extrusion Applications
Plastic extrusion is the most widely used high volume manufacturing processes for the forming of regular plastic and thermoplastic material. Using an extrusion process, Plastic Extrusion Technologies creates objects such as plastic parts for deck railings, window frames, wire insulation, weather stripping, thermoplastic coatings and more.
Plastic Extrusion Technologies manufactures plastic products for all types of companies from window manufacturers to adhesives producers, from startup ventures looking to get a prototype, to established companies that want to cut their costs. Our custom plastic extrusions provide solutions to many different companies across the country.
Click to view some of our work in these cities:
Learn more about our plastic extrusion applications by clicking the links below: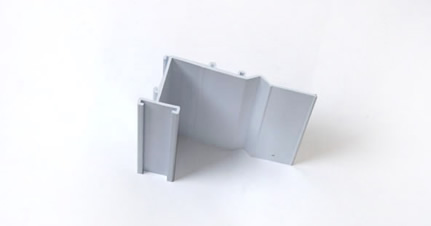 If you are looking to cut costs, increase efficiency, or plan to start a new plastic extrusion project, use the best company in the industry with over 100 years of successful experience – Plastic Extrusion Technologies. Contact our team of specialists to learn more about our products, abilities and applications.
Plastic Extrusion Process
During the plastic extrusion process, raw materials are heated using specialized tools. In addition to typical raw materials, plastic extrusion works especially well with thermoplastics. Thermoplastics are recyclable and are made of a plastic polymer material that becomes easily malleable at a specific elevated temperature. The molten plastic is then fed into an extruder in the form of pellets, powders, flakes, or granules. Upon cooling, the extrusion process causes the raw plastic to solidify and presents finished products with a continuous profile.
Common extrusion plastics include high and low density polyethylene, polystyrene, TPR, noryl, polypropylene and polyvinyl chloride (PVC.)
Plastic Extrusion Applications
Plastic Extrusion Technologies creates high quality objects using prime plastic material in order to protect against corrosion over time. Some of our most prominent creations include, but are not limited to HVAC, cable and wire, and refrigeration applications.
Learn more about our plastic extrusion applications by clicking the links below:
Contact Us Today To Experience A
Superior Plastic Extrusion Process